LAST LESSON'S NOTES - NEWS

JANUARY 13, 2016
DAEVID ALLEN'S UNIVERSITY OF ERRORS - SEA SONG B/W OCEAN IN THE DISTANCE 7" SINGLE RELEASE

The last recording by University of Errors to be released on January 13, 2016 in honor of Daevid Allen's first non-birthday day, it would have been his 78th birthday but it isn't.
It is the bands' version of "Sea Song" by Robert Wyatt.
The recording was done at Daevid's home studio in May 2011. Daevid reworked and finely tuned his vocal and glissando parts and the final mix was done by Orlando Allen in 2014.
It was Daevid's idea to release it as a thank you to everyone after his surgery and temporary recovery in 2014. He chose the artwork, photos and b-side "Ocean In The Distance" from the album e2x10=Tenure.
It is being released as a 7" single and available via mail order from
GAS
and
WAYSIDE MUSIC
in the USA.
It is packaged like a small album in a cardboard sleeve with a spine and full color inner sleeve and pressed on heavy audiophile quality vinyl.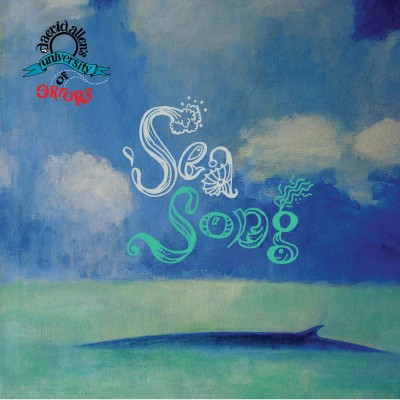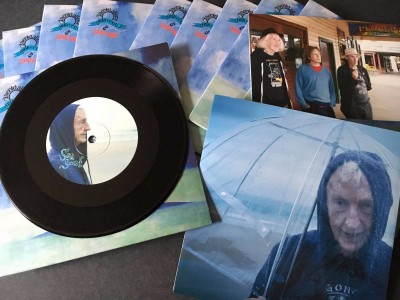 OCTOBER 2015
There is a newly released DVD of Daevid Allen's University Of Errors third and final performance at The Assembly Rooms in Glastonbury, UK on 30 May 2008.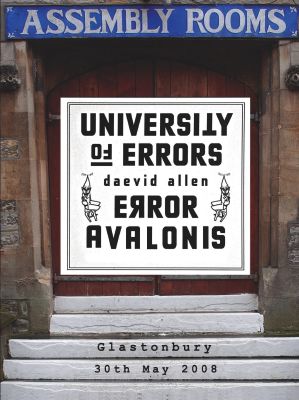 "The first in a series of Lawrence the Monk Gongish films spanning the years - bizarre treasures each and every one - catch-phrase, "I didn't even know he filmed that!".
Available at exclusively at The GAS Bazaar for a reasonable price. http://www.planetgong.co.uk/bazaar/dvd/uofeassembly.shtml

JULY 2015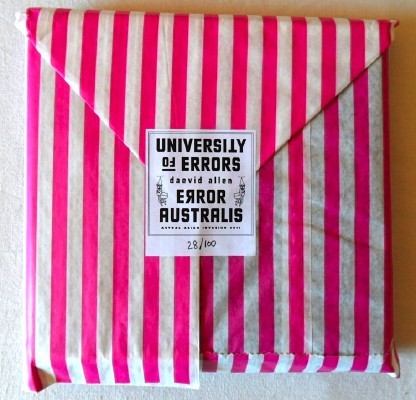 BOOK - BOXSET
Published by Bracketpress in association with Tin Pot Productions 21 June 2015 - BRACKET PRESS : www.bracketpress.co.uk
ERROR AUSTRALIS BOX SET by daevid allen
A benefit for Planet Gong
The idea for this project was first mooted up at a System 7 / The Orb all-nighter in Manchester a couple of years ago. Our friend, The Tin Man, had three pieces of work with him that Daevid was keen to see published, and after the work we did with him in 2011, wondered if we would be up for it. Of course!
It was great to have the opportunity to work with Daevid on soundbites 4 tha reVelation 2012, and was another one of those occasions where I ended up working with someone who's work I'd first come across over 30 years ago when the Gong LPs Magick Brother and Floating Anarchy 1977 were being passed around the school yard.
Work on Error Australis began just as Daevid went off on a tour of Japan with You Me & Us. After a lengthy period of radio silence we heard Daevid had been diagnosed with cancer, and was in hospital having intensive treatment.
We never had the pleasure of actually meeting Daevid – 10,500 miles aside – we were away when he was in the UK, but his funny playful emails were a joy.
We are gutted that Daevid never got to see this box set published – the book proofs were delivered to The Tin Man on Friday 13th March, the day Daevid passed. Work to complete the project continues, and will be a benefit for Planet Gong to help them towards tying-up Daevid's extensive musical estate.
Limited to 100 copies only, the box set will comprise of:
"ERROR AUSTRALIS – ASTRAL ASIAN INVASION 2011"
Daevid Allen's University of Errors Australian tour diary, May 2011. Written in his idiosyncratic style, full of humour and word play. Full-colour throughout, featuring band photographs and those they met on their way.
48 page, square-format hardback
"SPARKASSE FOR STARTERS or AUSFART IN BONN"
A poem concerning the consequences of having a broken tour bus toilet while suffering a chronic attack of the trots. Gong European Tour October 2009
12-page pamphlet with coloured card cover and letterpress printed title plate.
"PHP – The Remarkable Story of The Pot Head Pixies"
Originally published in 1966, before the formation of Gong, this text features the first appearance of the Pot Head Pixies who would become key characters in the Gong mythology. The pixies are green with propellers on their heads, and they fly around in teapots [© ireckon.com]. Pe-published here for the first time in over four decades.
8-page, square format pamphlet, card cover. With reproduction of Daevid's 1966 PHP illustration.
http://www.planetgong.co.uk/bazaar/books/erroraustralis.shtml

MARCH 2015
Headmaster left the Blue Planet March 13.
VIDEO: HOPE FOR HAPPINESS - UNCON 06

JANUARY 2014
An interview with Josh on All About Jazz website:

http://www.allaboutjazz.com/php/article.php?id=46271#.Utl0k2TTkb0

APRIL 2013
APRIL 7, 2013 : Utrecht (NL) - Professor The Rev is officially awarded as Professor at the University of Errors,
in charge of the Faculty of Abstract Ethics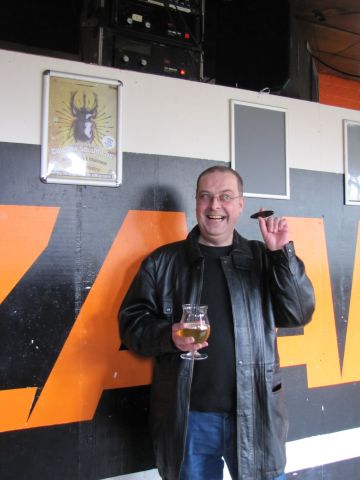 MAY 2012
University Of Errors entire faculty are taking 2012 off from the rigors of academia.
Members of the band have a lot of projects to keep them occupied
Among them:
Josh as usual has a large variety of projects.
Warren is teaching kids to play drums and has a band with Josh in San Francisco called 3 Leafs:
You can listen or purchase (for very low cost) a lot of their music here:
Michael has gone back to his roots (as Jonny of GAS said, "what else do you do in Hawaii?)
and has joined an instrumental surfin' and spyin' band called "Men In Grey Suits"

http://www.reverbnation.com/meningreysuits
Orlando is also very busy with his new company Flamedog Records:
http://flamedogrecords.com/
and Daevid is doing poetry as often as he can for whoever in Australia will either listen or be a critic:
http://gonzo-multimedia.blogspot.co.uk/2012/05/real-exclusive-daevid-allen-writes.html
and always interesting bits an pieces appear on the UofE Facebook page ….

FEBRUARY 2012
Message from Josh Pollock:
Also, in my ongoing attempt to be at one with the 21st century, I've started a
Josh Pollock Music download site,
which I'm inaugurating with my first-ever (free) download-only album,
"Music For Film & Theater, Vol. 1"
...the title of which kinda tells you what's up.
I've also got a few other albums up there, including a couple vintage jizzoints
from my turntablist alter-ego DJ Female Convict Scorpion, and the debut album
by the world's foremost ukulele/violin/French Horn trio, The Auricle,
with more to come. Stream, download, or just marvel in awe here...

http://joshpollock.bandcamp.com/

SEPTEMBER 2011
Virtual lesson in PDF (3,49Mb):
ERROR AUSTRALIS

a well spoke round the bend recounting of the events of the UOfE Austrailian tour of May 2011 by Headmaster Allen.
(being the official report of the antipodean misadventures of the university of errors Astral Asian invasion in Australia in May 2011)

MAY 2011
Visit UofE virtual networking campuses:
Facebook :
www.facebook.com/pages/Daevid-Allens-University-Of-Errors/132308313450926

MAY 2011
Daevid Allen's University Of Errors Australian Gigs May 2011:
13 MAY - BEETLE BAR, Brisbane
350 Upper Roma St. Brisbane QLD 4000, Australia - 0412 058 293
14 MAY - GOLLAN HOTEL, Lismore
73 Keen St, LISMORE, NSW, 2480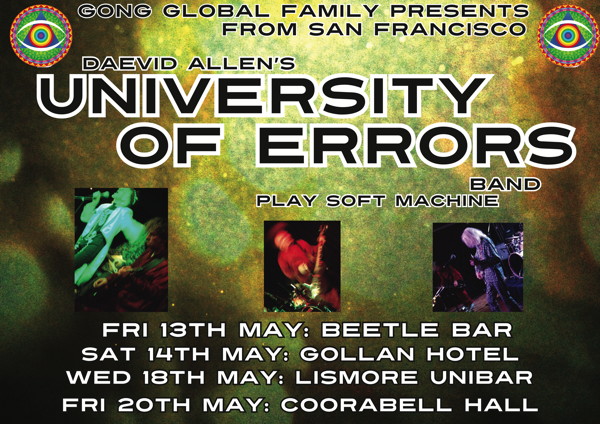 FEBRUARY 2011
From The Desk of the Headmaster:
BIG CHANGES INSIDE UNIVERSITY OF ERRORS

UNIVERSITY OF ERRORS WILL BE IN AUSTRALIA TO DO SOME PERFORMANCES AND RECORD THEIR NEW ALBUM IN MAY 2011
AND WILL SUBSEQUENTLY BE TOURING EUROPE IN OCTOBER 201I.

WEDNESDAY FEB 09 2011.
Warren Huegel long time drummer with Uof Errors is withdrawing from UofErr during 2011 to support his partner during the birth of their first baby.
The entire faculty is very dissappointed but congratulates Warren on his imminent fatherhood.

THURSDAY FEB 10 2011.
Today it has been confirmed that the new drummer will be ORLANDO ALLEN!
Daevid is obviously excited and delighted to be playing on stage with his son again.
Guitarist Josh Pollock comments:
"Orlando & I finally get a chance to build on the rapport that sparked twixt us when last in Oz--a rapport that, to my ears/soul, sparked fastly and furiously.
Warren's Warrenness will certainly be missed, but (I think/hope I can speak for us both) O & I clicked pretty strongly and quickly,
and have been wanting to play together again very badly ever since--I'm soooooo psyched that that finally gets to happen!
And I think the line-up shake-up will be a good creative kick in the pants. I was excited about this before, but, I have to say, even more so now!
Looking fwd immensely!!!"

JUNE 2010
University Of Errors are currently in the booking phase for a short tour during this summer:
Wed 04 Aug Oslo (N) Café Mono Norway
Thr 05 Aug Bodo (N) Sinus
Sat 07 Aug Karlsoy Island (N) Karlsoy Festival
Sun 08 Aug Hamar (N) Dirty Nelly
Fri 13 Aug Bremen (D) Eventship Treue - Schlachte 5, 28195 Bremen, Deutschland
Sat 14 Aug Bad Doberan (D) Zappanale Festival - Main stage
Tue 17 Aug Tel Aviv (IL) The Barby http://www.barby.co.il/


MAY 2009

MARCH 2009
A very brief tour in Italy and a performance at The Gouveia Art Rock Festival
Thrusday April 30 - Italy, Rome, Jailbreak Club
Friday May 1st - Italy, Taranto, Nautilus Club + Grey Lagoon
Sunday May 3rd - Gouveia Art Rock Festival, Gouveia Portugal, 3 days Festival w/PFM, Gordon Giltrap, Focus and more


"Daevid Allen's University of Errors Play The Soft Machine" DVD : Live At the Gong Family Unconventional Gathering,
at The Melkweg, Amsterdam, 5 November 2006"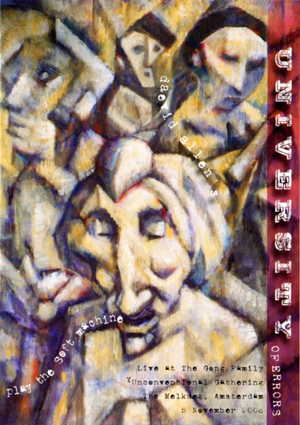 (Voiceprint unGONGDVD001, available)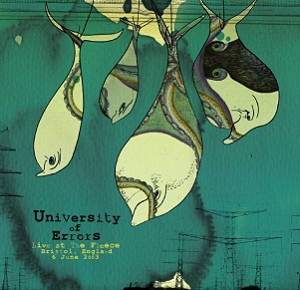 This CD is now available for purchase : http://www.planetgong.co.uk/bazaar/cd/uofe_fleece.shtml
It is a live recording from the 2003 tour recorded in Bristol at the Fleece, the last performance of the tour.


Myspace: www.myspace.com/universityoferrors